Services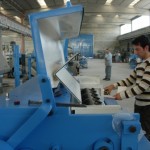 Delisi provides the assistance customers service throughout the world. Our services include : full training service on site or in Delisi company;fast worldwide spare parts supply, even for old wire working machines; competent, experienced and reliable contact persons; emergency orders for parts in stock will be shipped the same day, if the order has been received by 10 hours.
Services
Delisi's staff includes electromechanical technicians and electronics personnel, plus full  which is better technical service & engineering staff.
Rates 
Field Service rates can be obtained from and service orders can be placed with the Delisi service's coordinator at delisisrl@delisisrl.com
or by phone +39.0882.331121/331122
or by fax +39.0882.331121/331122
Remote Troubleshooting
Telephone assistance is available however we cannot guarantee a technician will be available to take a customer call at any given time.